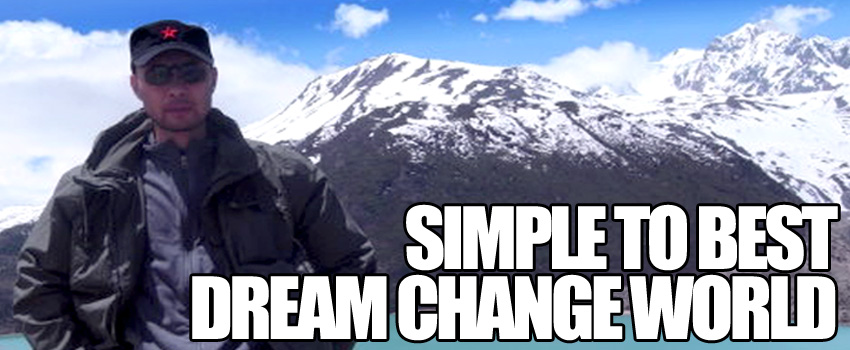 ABOUT US
Guangzhou Nicecourt Flooring Co., Ltd. is a global manufacturer of sports and leisure ground synthetic materials, dedicated to the research and development of sports and leisure ground synthetic materials.

Since its establishment in 2004, we has continuously introduced foreign advanced technology and products, adhering to the corporate tenet of "Strive to strengthen the body and create a happy life", and to be the most professional sports and leisure venue material supplier has always been our efforts. In this professional field, we always focus on our product quality and customer experience. Our technicians can always pay attention to and understand the development of the market, and design and develop products with strict and rich imagination, always keep our The product's individuality and leading edge make our products better in the lead of technology and better maintain the humanized taste.

Our company's main brand "CAG Interlocking Sports Flooring " is the fourth generation of new sports floor materials. It is the most fashionable and comprehensive sports floor material currently available. It has patented R&D technology and is marketed in the UK, Nigeria, Australia, More than a dozen countries, such as Southeast Asia, have obtained the designated products of professional competition institutions at home and abroad, and become the largest manufacturer of interlocking sports flooring in Asia.
---
WHY PEOPLE LOVE NICECOURT?

Athlete: Safe, comfortable, professional and environment friendly.
Proprietor: Low-maintenance, convenient, durable, versatile and All-weather.
Investor: Get the court done once and for ever.
Audience: Tidy, colorful and passionate.
Sponsor: Top sport, top court!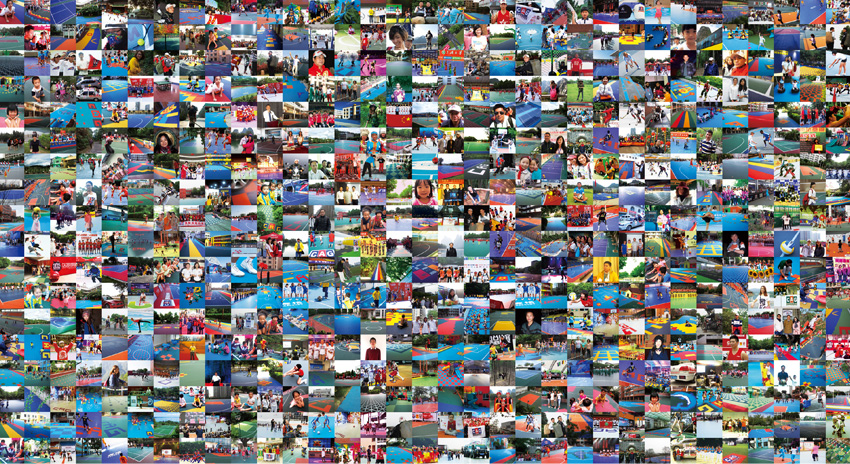 ADVANTAGES

1.Performance-driven
2.Easy Installation
3.All-weather
4.Colorful Apeal
5.Safe and environmentally-friendly
6.Zero Maintenance
7.Multi-purpose
8.10-year Warranty

THREE TECHNOLOGICAL ADVANTAGES

1.Side-to-side Forgiveness Mechanism
providing fast side-to-side movement with minimal risk of injury to joint of lower extremity

2.SuSpended Surface
protecting joints and lower back from injury

3.Suspended Traction
offering excellent body control,and maximizing the performance while playing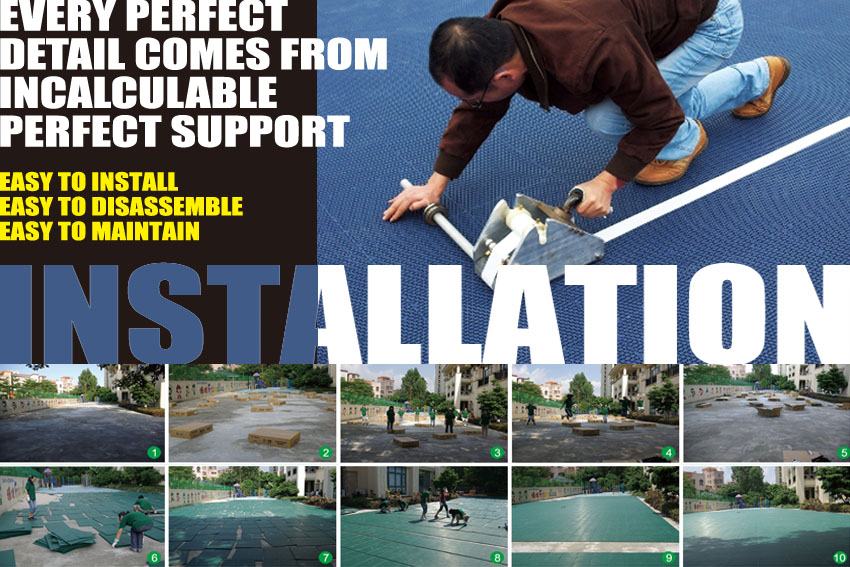 PROCESS OF INSTAlLATION

1.Take the cartons into the court and put them on well-proportioned places.
2.Take the pre-locked tiles out and spread them.
3.Proport the pre-locked tiles.
4.Install the pre-locked tiles into lines.
5.Join the lines.
6.Work finished.
7.Finished court.
8.Thanks for the installers!their work and the perfect product make the dream court come true.